Welcome!
April 2, 2017, SVAS presents the talented Cantones. Please join us for a fabulous French performance!
The Cantones
Richard and Larry began playing accordion in the early 1960's at the Neronde accordion studio in Sacramento. Being of Swiss heritage, their
repertoire included many folk songs from their home country. As youngsters they competed in both individual and duet categories at the Accordion Conventions prominent in those days. Their accordion playing continued in college, but when their business careers began, Larry found himself on the East Coast and Richard was traveling internationally. The accordions went on the "back burners" for about 25 years. Then about 15 years ago at their parents 50th wedding anniversary, Larry and Richard surprised them by bringing out their accordions and again performing duets of folk music from Switzerland. Since that time, whenever they get together they "pull out" the accordions.

Larry lives in Santa Barbara and is a member of the Santa Barbara AIMS accordion club. Richard lives in Carmel and can be found every Thursday night performing with Dave Dally at Lugano's Swiss Bistro, in The Barnyard at the mouth of Carmel Valley, just off Hwy 1.

Dave Dally is an accomplished professional violinist that lives in Carmel Valley and leads the Monterrey String Quartet. Dave is a very sought after musician and has played at our Club with Joe Domitrowich, Mike Marotta
and others.

​We are very happy to have them back.
Silicon Valley Accordion Society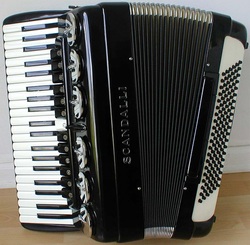 Silicon Valley Accordion Society meetings are held the first Sunday of each month at

Harry's Hofbrau
390 Saratoga Avenue
San Jose, CA 95129
at the corner of Kiely Blvd.
Click this link to see a map:
Map to Harry's Hofbrau
Doors open at 1:00PM, the program begins at 1:45. The door fee is $5, under 16 - no charge.
We invite you to visit one of our meetings and listen to wonderful performances by our guests. Our members are more than happy to answer any questions you may have about SVAS and how you can join.
We value your feedback; send us your comments and suggestions. By building an effective web site, we hope to get our message out to a larger audience of people interested in the accordion.
Happy squeezing!
Pam Kawashima
Webmaster of SVAS
email: pamk@svasociety.org
---