Welcome!
Join us on April 8, 2018 for a fantastic show by the return performance of the Fȇte Musette Ensemble!
Love the Louvre and the thrill of April in Paris? Fête Musette Ensemble takes you to Paris and a whirlwind musical tour of the countryside. We will demonstrate some of the dances, and invite you to dance some with us – these dances are called, so no experience necessary.

​Our musicians for the April 8, 2018, performance are Gary Breitbard (accordions, hurdy gurdy and vocals), Sarah Kirton (fiddle), Peter Tommerup (mountain and hammered dulcimers), Bill O'Haren (percussion), Julianne Stafford (button chromatic accordion) and Jena Rauti (accordion).

---
Silicon Valley Accordion Society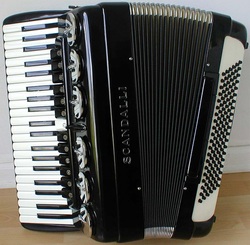 Silicon Valley Accordion Society meetings are held the first Sunday of each month at

Harry's Hofbrau
390 Saratoga Avenue
San Jose, CA 95129
at the corner of Kiely Blvd.
Click this link to see a map:
Map to Harry's Hofbrau
Doors open at 1:00PM, the program begins with a member band of club members playing their accordions. The door fee for members is $5, $10 for non-members, under 16 - no charge.
We invite you to visit one of our meetings and listen to wonderful performances by our guests. Our members are more than happy to answer any questions you may have about SVAS and how you can join.
We value your feedback; send us your comments and suggestions. By building an effective web site, we hope to get our message out to a larger audience of people interested in the accordion.
Happy squeezing!
Pam Kawashima
Webmaster of SVAS
email: pamk@svasociety.org
---