Welcome!
January 8, 2017, SVAS presents the Norwegian Folk Music and Dance Group. Please join us for a fantastic performance!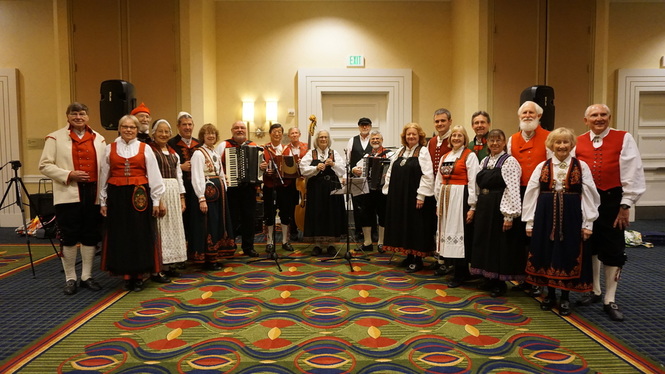 Norwegian Folk Music and Dance Group
Nordahl Grieg Leikarring og Spelemannslag (NGL&S)

This group of dancers is officially known as Nordahl Grieg Leikarring og Spelemannslag. This entertaining group of dancers is a non-profit social and performing group that meets for practice weekly at the Masonic Hall in Mountain View, focusing on traditional Norwegian dances and dances from other Scandinavian countries. Led by Meg Laycock and Tom Sears, they welcome visitors to any of their weekly classes. The group performed in July this year for the Daughters of Norway International Convention in Burlingame. For their performances, the dancers wear traditional Norwegian dress. The group takes their name from the Sons of Norway Nordahl Grieg Lodge, where they originally formed.

Nordahl Grieg was a Norwegian journalist, novelist, and popular poet who flew with RAAF during WWII as an observer and correspondent; his plane was shot down and he was killed along with the aircraft crew in 1943. Though the name is a bit unusual for everyday folk, definitions of the words are helpful: A Leikarring is a Norwegian folk dance group and a Spelemannslag is a group of folk musicians (ensemble). You won't want to miss their colorful dance and music presentations on January 8, 2017 at our SVAS club meeting.

Please join us and enjoy the performance!
Silicon Valley Accordion Society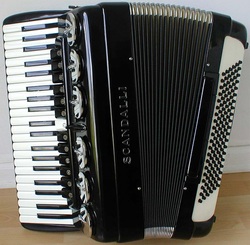 Silicon Valley Accordion Society meetings are held the first Sunday of each month at

Harry's Hofbrau
390 Saratoga Avenue
San Jose, CA 95129
at the corner of Kiely Blvd.
Click this link to see a map:
Map to Harry's Hofbrau
Doors open at 1:00PM, the program begins at 1:45. The door fee is $5, under 16 - no charge.
We invite you to visit one of our meetings and listen to wonderful performances by our guests. Our members are more than happy to answer any questions you may have about SVAS and how you can join.
We value your feedback; send us your comments and suggestions. By building an effective web site, we hope to get our message out to a larger audience of people interested in the accordion.
Happy squeezing!
Pam Kawashima
Webmaster of SVAS
email: pamk@svasociety.org
---