Welcome!
Join us on June 4, 2017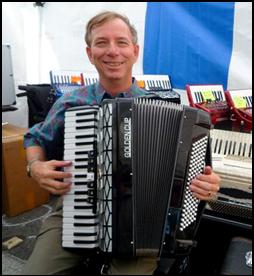 Gordon Kohl
Gordon Kohl's accordion passion began at age 7. As a teenager, he was already teaching. By age 20, he started his own accordion, piano and organ school while he earned a degree in marine biology.

His playing credentials would fill an entire page. He has made TV commercials, video tracks for projects such as the AIDS Foundation, and radio and TV shows, including work with Shirley Jones, Andy Griffith, and the KPBS Radio Ethnic Hour. He maintains a busy schedule performing around San Diego and at Oktoberfests in the mountains. He has developed a special expertise on the digital accordion, and he conducts acoustic and electronic workshops.

What Gordon really enjoys is teaching. The contact with his students helps him stay in tune with changing trends in music education. Folks relatively new to the accordion these days, he says, want to study a variety of musical styles. Gordon states, "Teaching requires the teacher to learn along with the students, exploring ideas of what the accordion left hand can do to add harmony and rhythm to today's musical dance styles, challenging both the student and the teacher."

Join us for a fantastic performance by Gordon in June!
---
Silicon Valley Accordion Society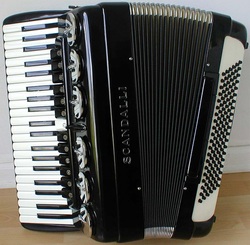 Silicon Valley Accordion Society meetings are held the first Sunday of each month at

Harry's Hofbrau
390 Saratoga Avenue
San Jose, CA 95129
at the corner of Kiely Blvd.
Click this link to see a map:
Map to Harry's Hofbrau
Doors open at 1:00PM, the program begins with members playing their accordions. The door fee for members is $5, $10 for non-members, under 16 - no charge.
We invite you to visit one of our meetings and listen to wonderful performances by our guests. Our members are more than happy to answer any questions you may have about SVAS and how you can join.
We value your feedback; send us your comments and suggestions. By building an effective web site, we hope to get our message out to a larger audience of people interested in the accordion.
Happy squeezing!
Pam Kawashima
Webmaster of SVAS
email: pamk@svasociety.org
---