Welcome!
Join us on February 4, 2018 for a phenomenal performance by return performers Ernie Beran and Jana Maas!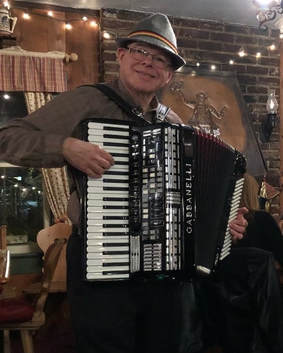 Ernie Beran
Ernie Beran's accordion journey began in 1964, a month before turning age 12. Myron Floren, the renowned accordionist of the Lawrence Welk show, was coming to Ernie's home town of Colorado Springs, and free lessons were being promoted by a local Accordion School. Ernie was immediately hooked and began diligently working his way through the Palmer-Hughes accordion course. Two years later, he had the privilege of playing "Lady of Spain" on Myron's program when he returned again for another show before a packed audience. He continued to be immersed in a multitude of local accordion happenings and competed in numerous competitions up to the virtuoso level, winning multiple awards.
Fast forwarding through college, Ernie embarked on a rewarding career in the U.S. Air Force. For a while the accordion was mostly set aside, but then during the mid-1980s while stationed near St. Louis, MO Ernie "rediscovered" his accordion. He became an active member of the St Louis Metro Polka club, where he was fortunate to often hear such greats as Frankie Yankovic and Don Lipovac. He also had the privilege of taking lessons then from world-class accordionist and composer, and recent ATG President, Amy Jo Sawyer, whose husband was stationed there.
Eventually nearing the completion of his Air Force career, Ernie relocated, "retired", and began work as a Project Engineer for a major Aerospace company in the San Francisco Bay Area. Ernie's accordion playing continued unabated in venues as diverse as playing in a company jazz/blues/rockabilly band; adding acoustic and "MIDI" accordion as part of a contemporary Christian worship band; and playing monthly sing-a-longs at a local senior's complex.
Now "semi-retired" Ernie is continually in demand playing extensively in the Santa Cruz, CA area. On weekends he is a strolling accordionist at the Tyrolean Inn in Ben Lomond, CA and his list of other clients continues to expand. He and his friend, Hermann Schmalzried, have formed the Alpine Duo and performed at the Gilroy Porchfest for the past three years. In December 2017 Ernie made his recording debut providing an accordion track for several songs on a CD produced by a local Santa Cruz musician.
These days, Ernie particularly enjoys being able to be at home with his accordion-supportive wife, Kathy, and their three cats.
---
Jana Maas

Jana Maas, who lives in Modesto, recently retired from 30 years of teaching music in the public schools. Jana is active in the "Good Time Accordion Club", which she and friend, Ed Sciarini started 20 years ago. Jana served as president of GTAC for 16 years and now is the secretary and editor of their monthly newsletter. She has been playing the accordion for over 50 years and continues to play for senior living communities, special occasions and, of course, accordion clubs. Jana enjoys playing many styles of music including her own original compositions and arrangements. She looks forward to performing for SVAS in February.
---
Silicon Valley Accordion Society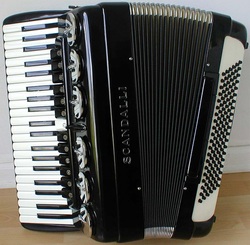 Silicon Valley Accordion Society meetings are held the first Sunday of each month at

Harry's Hofbrau
390 Saratoga Avenue
San Jose, CA 95129
at the corner of Kiely Blvd.
Click this link to see a map:
Map to Harry's Hofbrau
Doors open at 1:00PM, the program begins with members playing their accordions. The door fee for members is $5, $10 for non-members, under 16 - no charge. Jim and Ron begin playing at 3:00.
We invite you to visit one of our meetings and listen to wonderful performances by our guests. Our members are more than happy to answer any questions you may have about SVAS and how you can join.
We value your feedback; send us your comments and suggestions. By building an effective web site, we hope to get our message out to a larger audience of people interested in the accordion.
Happy squeezing!
Pam Kawashima
Webmaster of SVAS
email: pamk@svasociety.org
---