Welcome!
June 5, 2016 SVAS presents Rene Sevieri
Please join us for a wonderful performance!
Meet Rene Sevieri.
Rene has been playing and singing around the San Francisco Bay Area since he was 12. He performs at several local venues.
Besides knowing many accordion classics, he loves to play and sing American and Italian Standards from the 50's and 60's. Rene still plays in several bands and has been influenced by many styles of music from Ballroom to Rock.
Rene started taking accordion lessons in 1963 at the young age of 8 from Michele Corino at North Beach Music in San Francisco. His singing and accordion playing are deeply rooted in his Italian heritage, but his music repertoire has been influenced by many bands and styles over the years.
You just never know what he's going to play next.
​
See Rene on Youtube:
https://www.youtube.com/user/sevieri55
---
Silicon Valley Accordion Society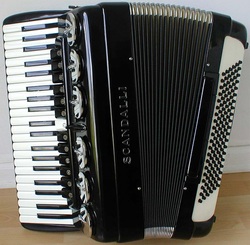 Silicon Valley Accordion Society meetings are held the first Sunday of each month at Harry's Hofbrau
390 Saratoga Avenue
San Jose, CA 95129
at the corner of Kiely Blvd.
Click this link to see a map:
Map to Harry's Hofbrau
Doors open at 1:00PM, the program begins at 1:45. The door fee is $5, under 16 - no charge.
We invite you to visit one of our meetings and listen to wonderful performances by our guests. Our members are more than happy to answer any questions you may have about SVAS and how you can join.
We value your feedback; send us your comments and suggestions. By building an effective web site, we hope to get our message out to a larger audience of people interested in the accordion.
Happy squeezing!
Pam Kawashima
Webmaster of SVAS
email: pamk@svasociety.org
---