Welcome!
September 11, 2016 SVAS presents the Reno DiBono Trio. Please join us for a fabulous performance!
The Reno DiBono Trio

​Reno is a retired Monta Visa High School teacher. He is a professional accordionist 'Italian Style.' He is currently a lecturer of American History and is an instructor of the accordion. He usually teaches at the Cupertino Senior Center.

Dave Kawamoto plays sax and clarinet like Benny Goodman and can play any song he can hear. His specialty is dixie land jazz. Dave was a pilot for Pan Am and Delta and is now retired. He is married to Sonia and lives in Almaden and Hawaii.

Olaf Schiappacase is a "high demand" Bay Area drummer. He lives in Santa Cruz and is an instructor of the drums.

Please join us, you won't be disappointed!
Silicon Valley Accordion Society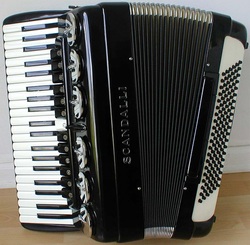 Silicon Valley Accordion Society meetings are held the first Sunday of each month at

Harry's Hofbrau
390 Saratoga Avenue
San Jose, CA 95129
at the corner of Kiely Blvd.
Click this link to see a map:
Map to Harry's Hofbrau
Doors open at 1:00PM, the program begins at 1:45. The door fee is $5, under 16 - no charge.
We invite you to visit one of our meetings and listen to wonderful performances by our guests. Our members are more than happy to answer any questions you may have about SVAS and how you can join.
We value your feedback; send us your comments and suggestions. By building an effective web site, we hope to get our message out to a larger audience of people interested in the accordion.
Happy squeezing!
Pam Kawashima
Webmaster of SVAS
email: pamk@svasociety.org
---