Welcome!
Join us on October 7, 2018 for an afternoon of wonderful music from around the world by the Peter Di Bono Trio! You won't be disappointed!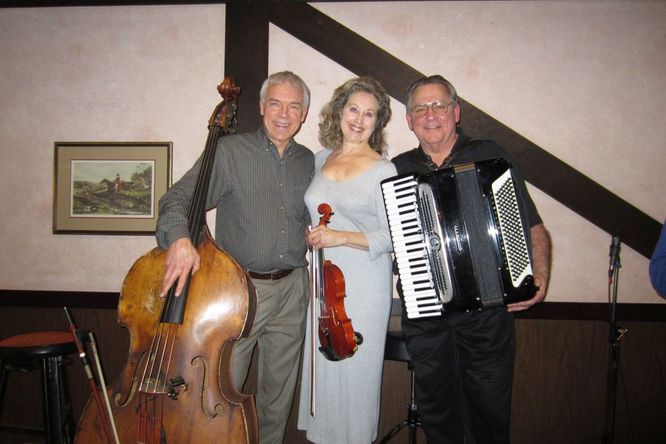 The Peter Di Bono Trio—has been serenading Bay Area audiences for over 25 years. Venues range from an elegant wedding on Nob Hill, to a forest picnic in Carmel Valley. The music covers a very wide spectrum from Broadway to Bach, and back. The trio was selected to perform at the gala dinner celebrating the 50 year anniversary of the introduction of the song, "I Left My Heart In San Francisco". The performance took place in The Venetian Room of The Fairmont Hotel where Tony Bennet, who was in attendance, introduced the iconic piece 50 years before.

Violinist, Harriet Newhart is equally comfortable playing Mozart, Mancini, or marches. Classically trained on piano and violin at The San Francisco Conservatory of Music, Harriet brings such warm vitality to her music that she has been a favorite of San Francisco audiences and musicians for her entire career. The bass player is Steve Hanson. Steve was raised on the family farm in Minnesota, and as soon as he was of age, he joined the United States Navy. He auditioned for and was accepted into the Navy Band playing horn. Steve eventually was transferred to Naples, Italy spending the majority of his naval career there, where he became fluent in Italian.

Steve's bass playing style and all around musicality keeps him one of the busiest musicians in the entire Bay Area. Peter Di Bono has played nearly every type of music, and in every setting imaginable. Performances include musical theater and guest soloist with Bay Area symphony orchestras.

​A winner of many musical competitions, Peter won the then version of America's Got Talent while in high school as well as The Bank Of America Award for music. His many musical styles include classical, jazz, Italian, French, German – "You name it, I do it!". Peter has an active teaching practice with over 20 students, and is on faculty with The Community Music Center in San Francisco.
Silicon Valley Accordion Society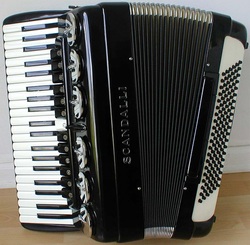 Silicon Valley Accordion Society meetings are held the first Sunday of each month at
Harry's Hofbrau
390 Saratoga Avenue
San Jose, CA 95129
at the corner of Kiely Blvd.
Click this link to see a map:
Map to Harry's Hofbrau
Doors open at 1:00PM, the program begins with a member band of club members playing their accordions. The door fee for members is $5, $10 for non-members, under 16 - no charge. Bring your accordion and get on the pre-program by contacting Pam at pamk@svasociety.org. Our professional program begins at 3:30.
We invite you to visit one of our meetings and listen to wonderful performances by our guests. Our members are more than happy to answer any questions you may have about SVAS and how you can join.
We value your feedback; send us your comments and suggestions. By building an effective web site, we hope to get our message out to a larger audience of people interested in the accordion.
Happy squeezing!
Pam Kawashima
Webmaster of SVAS
email: pamk@svasociety.org
---